Pupa Petalips: de Soft Matte Lipstick De Pupa Petalips Lippenstift heeft een onverwachte zachte matte textuur die het comfort van een balsem...
Pupa Vamp Mascara Sexy Lashes voor een sexy oogopslag De Sexy Lashes Mascara van Pupa geeft volume, lift en krult! De wimpers zien er buitengewoon...
Pupa Winter Blooming Multiplay Oogpotlood De formule bevat verzachtende en voedende jojoba-olie, antioxidant vitamine E en C en katoenolie om...
Pupa Winter Blooming Highlighting Blush De textuur is verrijkt met speciale pigmenten en gouden microparels die de teint een buitengewoon stralend...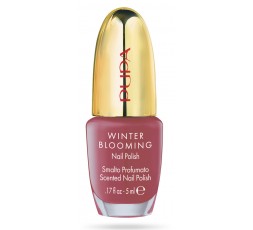 Pupa Winter Blooming geparfumeerde nagellak Innovatieve formule rijk aan harsen die een superheldere, sneldrogende film creëren. De textuur,...
Pupa Winter Blooming Oogschaduw palette De matte textuur combineert innovatieve Velvety Agents die zorgen voor een perfecte hechting en een hoog...
Alle nieuwe producten
Best verkochte producten
Pupa Multiplay Pencil. Kohl, eyeliner en oogschaduw: één potlood dat op drie verschillende manieren kan worden gebruikt. Dit multifunctionele Pupa...
Pupa Made to last definition eyes Er is geen beter product voor het creëren van de geometrische 'catwalk' ooglijnen dan de: Made to Last Definitie...
Pupa Made to last waterproof oogschaduw stick De nieuwe waterproof oogschaduw van pupa. Zeer eenvoudig aan te brengen dankzij de handige 'twist-up'...
Pupa Antitraccia foundation. Een ultra comfortabele, veegvaste foundation. De nieuwe generatie Pupa foundations die geen strepen achterlaat: een...
Pupa Diva's Lashes Mascara Extra Black Bestel nu, want de actie-voorraad is beperkt, op=op! Deze Pupa Diva's mascara heeft een ongekend volume...
Pupa BB Cream in verschillende variaties  De pupa BB cream is verkrijgbaar in verschillende versies. De normale versie voor de droge en normale...
Pupa True Eyebrow Pencil De hele dag perfect gevormde wenkbrauwen. Dit Pupa wenkbrauw potlood is zacht en eenvoudig te blenden met de natuurlijke...
Pupa Eyebrow Plumping Gel - wenkbrauw-gel Nieuw in het Pupa assortiment is deze wenkbrauwgel. Hij geeft volume aan de wenkbrauw. Voor vollere en...
Alle beste verkochte producten
Aanbiedingen
Pupa Mascara Proefpakket XL Pupa Vamp! Mascara Definition extra black De nieuwe mascara van Pupa Milano heet Vamp! Definition. Voor prachtige...
5 stuks Pupa VAMP! Mascara Extra Black Nu per 5 super voordelig! Een revolutionaire mascara voor extreme wimpers en uitzonderlijk volume! Creëer...
Pupa top 4 mascara's - als try out pakket + gratis multiplay black De 4 verschillende top mascara's (best verkocht) van Pupa Milano in 1 pakket. De...
De iconische mascara van Pupa.  Overdreven wimpers met een oversized volume. De revolutionaire volumemascara voor volle, dikke en verlengde...
Alle verkoopproducten
Nieuwe Producten
Oeps.. deze pagina bestaat niet (meer).
We helpen je graag weer op weg.
Homepage